Inaugurated by IFLA in 2005, the Sir Geoffrey Jellicoe Award celebrates a living landscape architect whose "achievements and contributions have had a unique and lasting impact on the welfare of society and the environment and on the promotion of the profession of landscape architecture." It is the highest honour IFLA can bestow on a landscape architect. The award is named after notable British landscape architect Sir Geoffrey Jellicoe, a founding president of IFLA, whose most well-known works included Cheddar Gorge and the Kennedy Memorial at Runnymede in the UK.
Dr. Jala Makhzoumi received the bachelor degree in architecture from the University of Baghdad, Iraq, a Master degree in Environmental Design at Yale University and Doctor in Landscape Architecture at Sheffield University. Jala is a prominent figure in Landscape Architecture in the Middle East.
Jala has developed her work of landscape architecture in different parts of the world, due to circumstances beyond choice, in different contexts and landscapes.
Jala's expertise is in ecological landscape design and planning where she applies a holistic, developmental approach to mediate community needs with ecosystem health, biodiversity protection and landscape heritage conservation.
Her professional and academic expertise includes postwar recovery, energy efficient site planning and sustainable urban greening.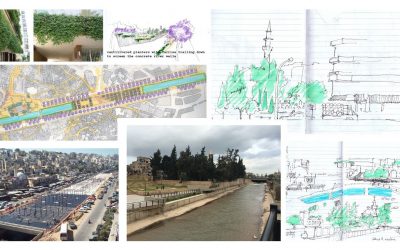 Project. Rehabilitation of the Abu Ali River, Tripoli, Lebanon, 2005-06 (collaboration with URBI Planners). The landscape concept overcomes the rupture through a planted bridge-platform and by converting the Bortasi historic mosque into a stepped garden to open access to the river.
She has served as landscape planning consultant to the Damascus master plan 2030, Saida Urban Sustainable Development Strategy 2015, Baghdad Comprehensive City Development Plan 2030 and the conservation and revitalization of the historic holy towns of Kadhimia and Najaf.
In 2013 Jala co-established UNIT44, a Lebanon based design and planning practice offering a wide range of services in architecture, landscape architecture, ecological planning and urban design.
In 2001 she co-founded the BS in Landscape Design and Ecosystem Managment. She has many research publications and books in the field of landscape. In 2007 she co-founded the Cambridge Centre for Landscape and People in Cambridge. Jala serves on the editorial board of Landscape Research and the Journal for Marine and Island Culture.
Her publications include Ecological Landscape Design and Planning: the Mediterranean Context, co-author Pungetti (Spon, 1999) and The Right to Landscape, contesting landscape and human rights, co-editors Egoz and Pungetti (Ashgate, 2012) and Horizon 101 (Dar Qonboz, 2010) a reflective collection of paintings and prose on landscape and identity.
Jala became also an activist, being able to provide alternative visions and protect  sensitive sites and communities threatened by real estate development in a region where rapid urbanization is drastically shaping the local environment.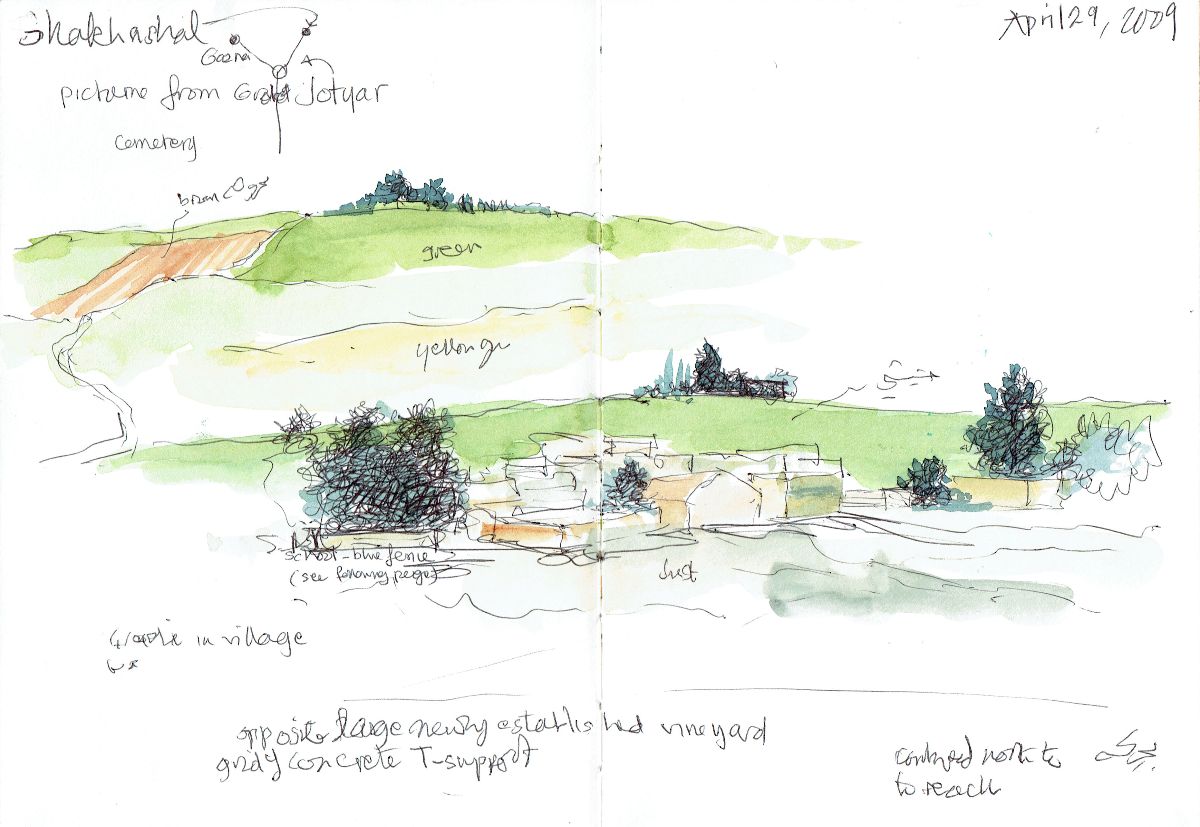 Project. Erbil Greenbelt, Iraq, 2008-10. (collaboration with Khatib and Alami Consultants). The holistic framework of ecological design was applied to reconceptualize the existing rural landscape into a multifunctional landscape that combines sustainable agriculture, nature conservation and recreation. Watercolors of Greenbelt site
Jala was the recipient of the first Tamayouz Women in Architecture and Construction Award in 2013.
Jala describes how she faces and has developed her career:
I was determined early on in my career to hold-on equally to practice, research and teaching. In a region where the word 'landscape' is narrowly construed to imply scenery, landscape architecture, still an emerging profession, holding on to all three was necessity to progress the profession… In regions where the urgent need for economic and social betterment supersedes concern for environmental health, landscape architecture has the potential to address concerns for human and environmental well-being equally at the local, city and regional scale. Having practised, taught and published these ideas I would like to share a brief statement on my understanding of each:
– Teaching is investment in the future generation of designers.
– Practice is my way of learning, of fulfilling my creativity as a designer.
– Research is sharing experiences and the challenges encountered as a professional.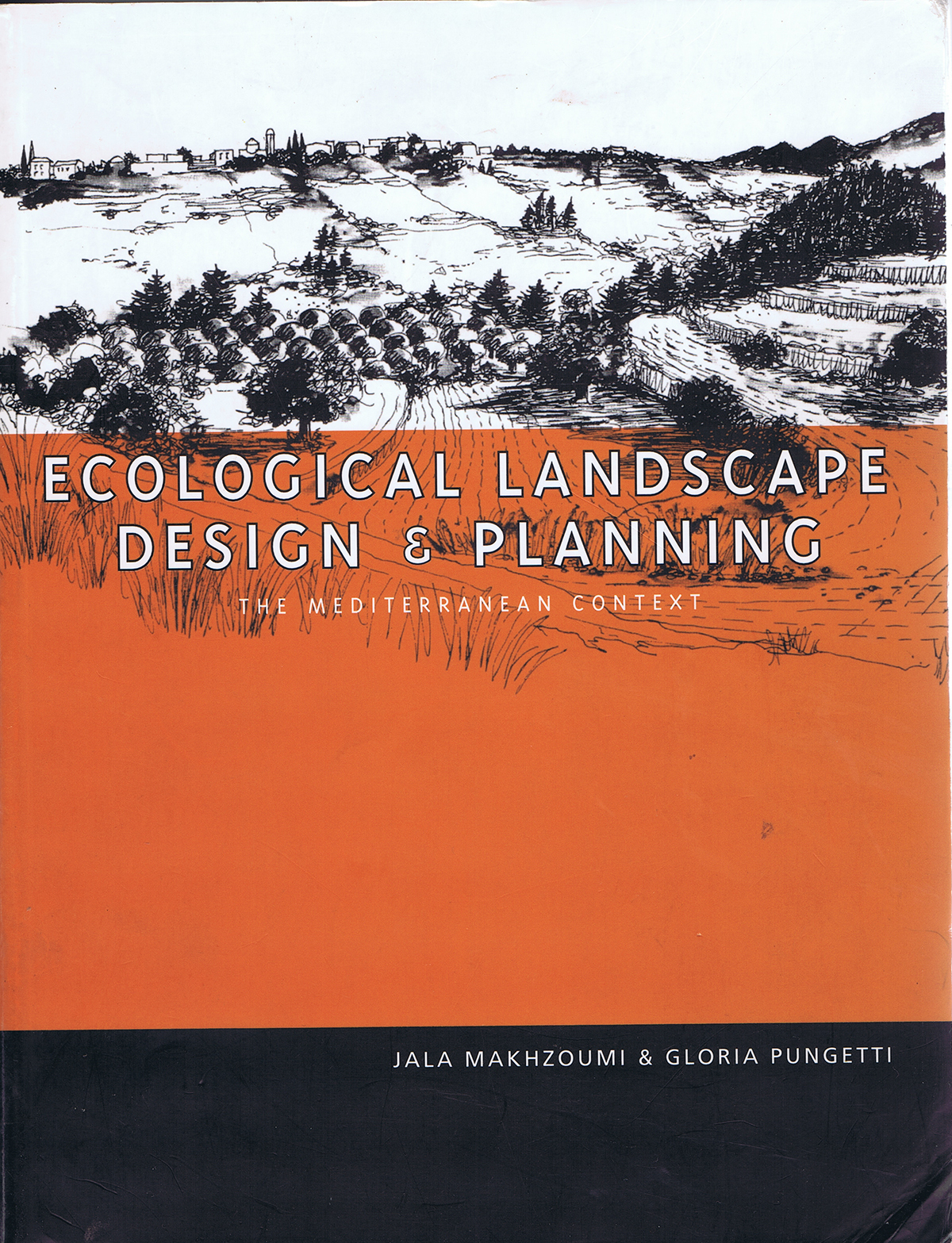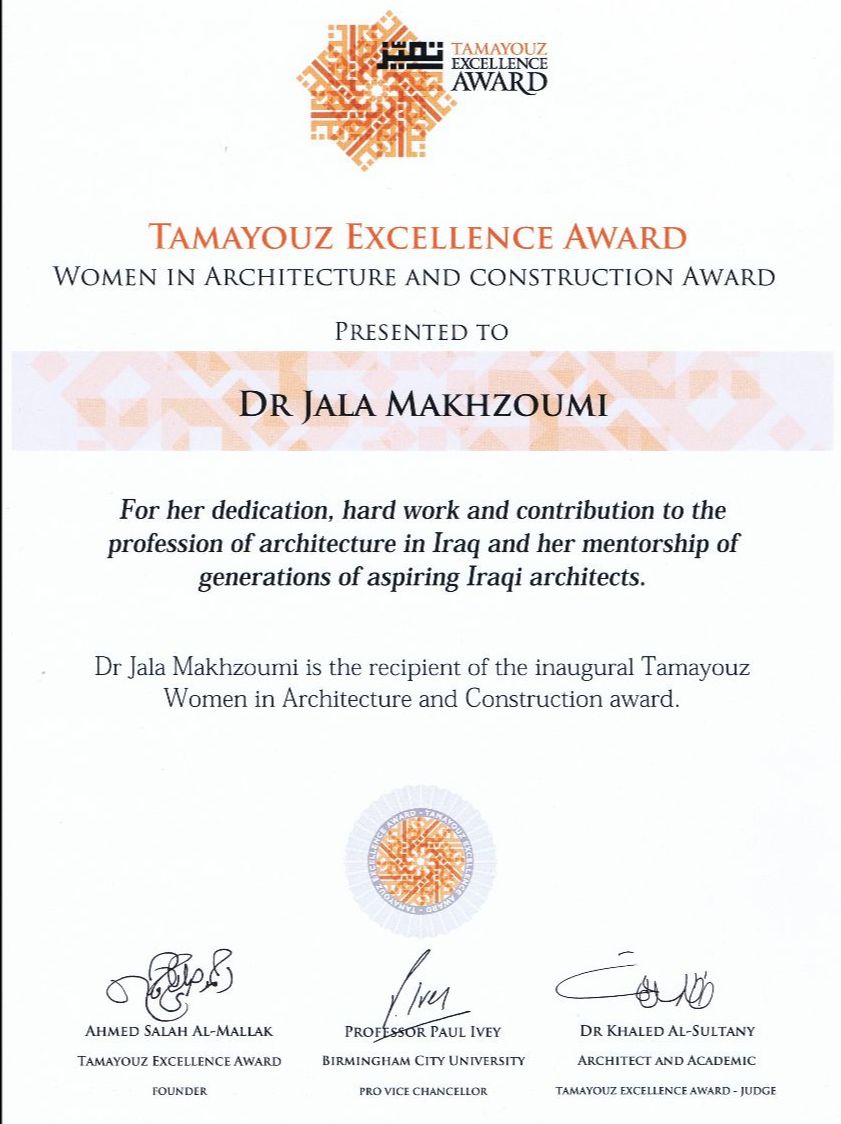 (1) Publication. Makhzoumi, Jala and Pungetti, Gloria (1999) Ecological Landscape Design and Planning Tamayouz Excellence Award.
(2) Women in Architecture and Construction Award 2013
Download Full Media Release
With the announcement of the 2021 award, Jala Makhzoumi joins Chinese Landscape Architect Kogjian Yu, American landscape architects Kathryn Gustafson and Anne Whiston Spirn, and Dutch landscape architect and planner Dirk Sijmons who were the most recent recipients of the award in 2020, 2019, 2018 and 2017 respectively
For further information, please contact:
chair.cer@iflaworld.org